Coronavirus spreading fast in Nigeria: 8 New Cases confirmed, now 97 in total
The deadly virus popularly known as coronavirus and tagged COVID19 is getting close to 100 confirmed cases in Nigerian without any sign of slowing down. Nigerians need to take drastic measures to prevent the spread of this virus before it becomes too late.
8 New Cases have been confirmed as gathered from the NCDC this morning which clearly shows that a new coronavirus case now surfaces every blessed day in Nigeria, If we have up to 8 confirmed new coronavirus cases today what about tomorrow. Something must be down fast to avoid competing with the other countries with the highest confirmed coronavirus cases like the USA, ITALY, CHINA, and SPAIN.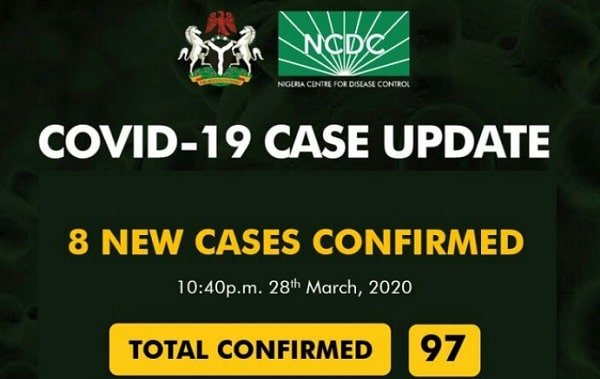 The worst is that these countries that have recorded the highest number of COVID19 cases have the technology, good governance and everything required to help their citizens and to stop or at least slow down the spread of the virus but in a country like Nigeria if such happens then what we saw happening in Italy will be a starting point in Nigeria

The break down of the new confirmed cases is as follows:

2 in FCT, 4 in Oyo, 1 in Kaduna and 1 in Osun State, a total of confirmed coronavirus cases now 97 in Nigeria and break down of all the 97 cases are:
Lagos- 59

FCT- 16

Ogun- 3

Enugu- 2

Ekiti- 1

Oyo- 7

Edo- 2

Bauchi- 2

Osun-2

Rivers-1

Benue- 1

Kaduna- 1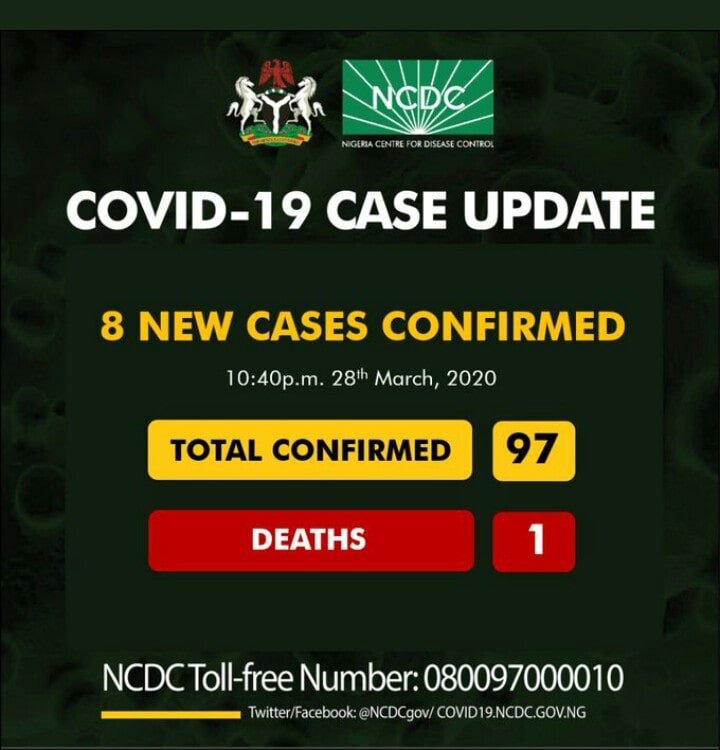 How to Protect Yourself
Older adults and individuals with serious underlying medical conditions such as heart or lung disease or diabetes tend to have a greater risk of experiencing more severe complications from COVID-19.
Read: Nigerian house of Reps acquiring exotic cars while other Nations are fighting COVID 19
1. Clean your hands frequently
Wash your hands with soap and water for at least 20 seconds, particularly after blowing your nose, coughing, or sneezing, particularly after you have been in a public place.
Using a hand sanitizer that contains at least 60 percent alcohol if soap and water are not readily available. Cover and rub all surfaces of your hands together until they feel warm.
Stop eye contact, nose, coughing, or sneezing.
2. Avoid close contact
Avoid close contact with sick people If COVID-19 is spreading in your culture, put space between yourself and others. This is especially important for people at greater risk of becoming very ill.
How to protect others
Stay home if you're sick
Stay home if you are sick, except to get medical care
Cover coughs and sneezes
If you cough or sneeze, or use the inside of your elbow, cover your mouth and nose with a tissue. Throw the used tissues in the garbage and right away wash your hands with at least 20 seconds of soap and water. If soap and water are not readily available, use a hand sanitizer that contains at least 60 percent alcohol to clean your hands.
Read

: How Coronavirus Outbreak turns into business opportunities in Nigeria
Wear a facemask
if you're sick and close to people (e.g. sharing a room or vehicle), you can wear a facemask before joining the office of a health care provider. If you are unable to wear a facemask (for example, as it creates breathing difficulties), then you should do your best to cover your coughs and sneezes, and people who care about you will wear a facemask when they come in.
If you're NOT sick: Unless you're caring for someone who's ill (and they can't wear a facemask), you don't need to wear a facial mask. Facemasks can be in short supply, so caregivers will be saved on them.